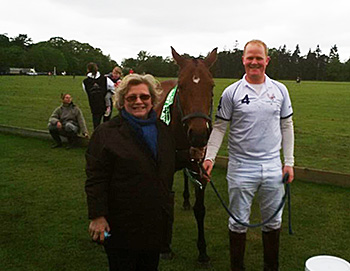 The Coppid Cup: 10th & 11th of May
COPPID CUP FINAL
Purity 3 vs 2 Coppid Owls
Purity lifted their second Cup in a row. It was another good start from team Purity with some quick scores on the board but this time they were caught by the Coppid Owls and even as the last 30 seconds ticked by in the fourth chukka the scores remained tied.
So the teams lined up for a penalty shoot out, which due to some accurate shooting from Purity, Tristan Phillimore had to relinquish his hold from the previous year on the family trophy and Lord and Lady Phillimore handed the trophy instead to both members of the Wethje family, Helen and Oscar, once again supported by professionals Pedro de Lamare and Rhys Oldie.
Tristan did have some consolation when his pony 'Extreme' won Best Playing Pony and team mate Roon Kai took away most valuable player, fresh off the plane and making a great start to his English season.
SUBSIDIARY FINAL
Wild Cats 6 vs 3 Baby Bears
After a few casualties from Saturday's league games the Wild Cats had a couple of changes which went well for them, and they came out the winners against Baby Bears. It was good to watch, with Charlotte Elliott playing in her first match ever and proving to be a positive presence on the field.
SUB SUBSIDIARY FINAL
Drop More Wine 8 vs 3 West Wycombe
Drop More Wine were not dropping anything of the kind when they came out with a big victory against a visiting club, West Wycombe. Toby Petjkovic and Sam Buckles proved to be too strong and joined up well, putting 8 goals on the board. West Wycombe fought valiantly but not enough balls went through the posts for them. Most Valuable Player went to Toby Petjkovic
---