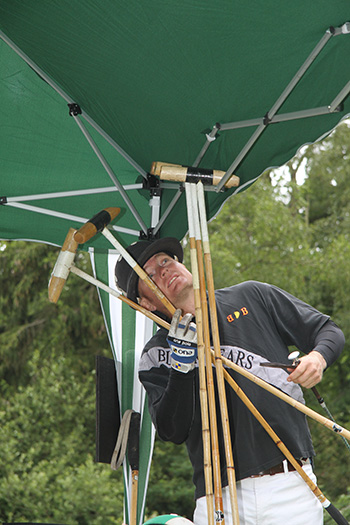 History of Polo
No one knows when man started fitting stirrups to his primitive saddle, but as soon as he did, he probably began to play a game like polo. It is one of the oldest and fastest team games.
The first recorded game occurred about 600 BC in North Persia from where it spread slowly East as far as China and Japan. However, it was not until around the middle of the 19th century that the beginnings of polo as we know it today took shape, when soldiers and merchants in Northern India adopted a game then played by Manipuri hillsmen.
The name 'polo' is derived from the Indian 'pulu' for the wood from which the ball was made and the word 'chukka' comes from the Indian word for a circle or round.
Although the first polo club, The Retreat at Silchar in India, was founded in 1859, no formal rules were produced until 1875 when Hurlingham in London became the recognised headquarters of the game.
The ruling body of the game is the Hurlingham Polo Association. During the past 100 years, the game has expanded throughout the world and is now regularly played in over 80 different countries, with Argentina frequently setting the standards and producing both the best players and the ponies most suited to the sport.
In this country, the Second World War almost marked the end of the game. Its recovery was largely due to the late Lord Cowdray's great work in restoring polo at Midhurst in 1947 and in encouraging the general public to watch the game.
Since then the game has grown rapidly and there are now over 60 polo clubs in the British Isles with over 3,000 players spread through the UK and Ireland among pony clubs, schools, universities and clubs.