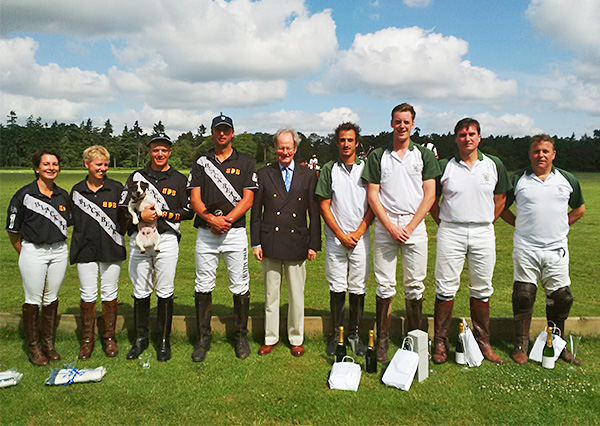 Anniversary Cup: 28th-29th June
Anniversary Tournament
Record entries for Binfield Heath, celebrating their 20th Anniversary, with 2 levels played.
4 Goal Final
Active Reach/Santa Helena 10 vs Black Bears 3
A big effort was needed from Active Reach / Santa Helena if they were to turn around from Saturday's loss and that is exactly what happened. Tomas Fernandez came out like a man possessed and ran from one end to the other, scoring 6 goals by half time, supported by Ed Courage. Black Bears were struggling for an answer. McCulloch and Gaynor Hutton were doing their best up front, managing to get a few past the post with much encouragement from their team mates Davey Baxter and Nick Keyte, but the bounce of the ball wasn't going with them, as it was the previous day, and with Active Reach / Santa Helena's two attacking players Clive Posselt and Mike Revell also scoring lovely field goals, it kept their team well in front and made sure the goal difference was enough to win them the Four Goal Final.
Best Playing Pony went to Black Bear's 'Husky', played by Davey Baxter. Most Valuable Player was Ed Courage.
0 Goal Final
Purity Vodka 7 vs Wildcats/Dropmore Wine 2
Team Purity Vodka, with a slight player change from last week, were definitely not going to have a repeat from the previous weekend. Professional Pedro Lamare controlled the game, backed up well by Reese Odle. With both members of the Wehtje family – Helene and Oscar – putting lots of pressure at the front, it was difficult for Wildcats / Dropmore Wine to have an answer. Tom Petersen, the stalwart of Dropmore Wine, with Sam Buckles and Michael Mylonas, always consistent players on their handicap, no team could ever relax. But even with Toby Pekjovic's never give up attitude, it was just not their day and Purity's horse power put them further and further into the lead until the final whistle.
BPP went to 'Milly', owned and played by Helene Wehtje and MVP was also received by Helene
Subsidiary Final
SportLobster 8 vs Blueys/Shaft Polo 1
SportLobster were not only having a big weekend business wise with all the sporting events, but they made sure they also had a victory on the polo field. It was almost complete domination when you looked at the score board, with Ollie Browne not only scoring himself but feeding the ball to the front, where Aaron, Georgia and Alex made no mistake and kept their score line ticking over. Unfortunately Blueys / Shaft Polo, who were on fire the previous day, just couldn't make it happen. They peppered the goal mouth a few times but nothing quite got through the posts, with their only goal coming in the 3rd. They would have to be proud of themselves for the last however, as with some great team play and defense they did stop SportLobster from scoring at all for the last period.
MVP went to Georgia Sweeney.
3rd Final
Frogmore/Home Farm 6 vs West Wycombe Polo Club 2
West Wycombe Polo Club started the scoring off with Robert Gourlay putting them into the lead by the end of the first chukka – one to nothing, but Frogmore / Home Farm's Tommy Fernandez, who was playing his second game of the day, looked like he flicked a switch after the first and scored 5 goals in the 2nd and 3rd. Team mates Laura Heard, who is always tough on the man, Henry Gill and Alex Brown kept the West Wycombe players locked up and also kept them scoreless in the 2nd and 3rd. The two Anderson family members, James and Alex, and Lisa worked hard to clear the way for Robert to get through to put another one on the board for them in the 4th, but it was not enough in the end.
MVP went to J Anderson.
4th Final
Greenpoint Polo 6 vs Inventure 3
Inventure's two professionals made a quick start, putting 2 goals on the board straight away to a slightly shocked team Greenpoint Polo. However Greenpoint's Elliott Sands and Peter Hugh Smith dragged the scoreline in quickly, keeping Inventure scoreless in the second and making sure that they went one ahead. Inventure's Andy Cork and Nick Gerrard fought hard against their opponents Gaynor Hutton (who was also playing her second game of the day) and Tom Barlow, giving room for Josh to come through and get another on the board but Elliott Sands kept his end up and the score line was Greenpoint Polo 6 to Inventure's 3.
MVP went to Tom Barlow.
5th Final
Black Hounds 11 1/2 vs Black Lions 4
Black Hounds might have looked the weaker team on paper, with a minus one goal team against Black Lion's 0 Goal team, but the phrase never judge a book by its cover rang very true. Black Hounds consistent scoring throughout the game made for an impressive scoreline. Stuart Beetles was in fine form, scoring from every angle and also directing his team mates Byrne, Burt and Griffin to make sure they also added to the tally. Team Black Lions, who consisted of father and son combination Oscar and Andrew, and the Leyland couple, fought hard and put 4 goals on the board but it just wasn't enough.
---